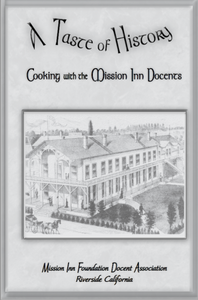 A Taste of History Cookbook-Cooking with the Mission Inn Docents
Regular price
$10.00
Sale price
$15.00
Unit price
per
Cooking with the Mission Inn Docents.
Food has always been an integral part of the Mission Inn.  From it's earliest inception, through the decades of the 20th century, to today, people sharing conversation and camaraderie over well crafted dishes has been at the heart of this Riverside icon.
At the heart of the Mission Inn Foundation and Museum is the legion of dedicated volunteer docents.  Many have been here since the Foundation's beginnings in the 1970's, while others are new to us each year.  They share the stories of the Inn, the City of Riverside, the Inland Empire, and southern California on daily tours and at special events.  They greet customers at our front desk and hand out medals at the Mission Inn Run.  They dance at our galas and honor civic commitment at the Frank Miller Civic Achievement Award dinner.  But most of all, they love this place and it shows.
The recipes in this cookbook represent hundreds of hours of care and passion for food.  The represent the kind of warm hospitality that Frank Miller - the original Master of the Inn - provided his guests every day.  As you explore these recipes, keep in mind the love for gathering and the passion for fine details that they speak to through the amazing talents of our docents.
Gina Cavallo Collins
Executive Director
Mission Inn Foundation and Museum
January 2019
---
Share this Product
---