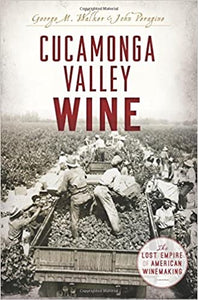 Cucamonga Valley Wine: The Lost Empire of American Winemaking
Regular price
$21.99
$0.00
Unit price
per
The Cucamonga Valley was once America's largest wine-producing region, crafting quality vintages decades before Napa and Sonoma. Secondo Guasti, an ambitious and enterprising Italian immigrant, established the region's first vineyard in 1901, and others soon followed. Wineries like the Vai Brothers, Padre, Galleano, Brookside and more made the valley the epicenter of a burgeoning industry. Not even Prohibition could halt production. While domestic breweries and distilleries shuttered, Cucamonga's brandy and sherry continued to be legally made for culinary and medicinal purposes. Yet by the late 1970s, harvests had dwindled and vineyards vanished. Urbanization, vine disease and property taxes effectively ended production. Today, local vintners and wine enthusiasts are reviving the region's proud heritage. Authors George M. Walker and John Peragine uncork a legacy too delectable to die.
About the Author
George M. Walker is a native of Peru, Indiana, and relocated to the historic area of Rancho Cucamonga, California, in 2000. With his wife of twenty-six years, Angela, and their four children--Clayton, Donovan, Myra and Ella--George's extreme passion for vineyards and wine has grown exponentially with each year following the making of his first home vintage in Indiana in 1994. His love of the Cucamonga history and heritage is evidenced by the writing of this book and his recent founding of a new "old" winery now located in the same historic facility that once held the Vai Brothers Winery in Rancho Cucamonga.

John Peragine is a published author of twelve books, has ghostwritten many others and does freelance work for the New York Times, Reuters and Bloomberg News. He has published articles in Writer's Digest, WineMaker magazine and Speaker magazine, just to name a few. John has been writing professionally since 2007, after working thirteen years in social work and as a professional musician in the Western Piedmont Symphony. John lives with his wife and two children in Davenport, Iowa, overlooking the Mississippi River.
---
Share this Product
---